Mohs and Plastic Surgery for Basal Cell Carcinoma on the Right Tip of Nose*
Procedure Details
This 59 year old female was referred to our office by her dermatologist. The patient states that she had the lesion for 9 months and during that time she had failed other treatments including cryotherapy (freezing with liquid nitrogen) twice and had also failed treatment with Aldara (imiquimod). Biopsy by her dermatologist revealed basal cell carcinoma. Mohs surgery and Plastic Reconstructive Surgery were performed. A forehead flap was recommended for reconstruction. This recommendation was discussed with the patient and family as it requires intensive bandaging over the next several weeks and a follow up surgery to divide and inset the flap. This D & I was performed six weeks after the initial reconstruction. A revision was also performed to perfect her scars and with time, the redness from the surgeries subsided and the patient is happy with her results.
More
Forehead Flap for Basal Cell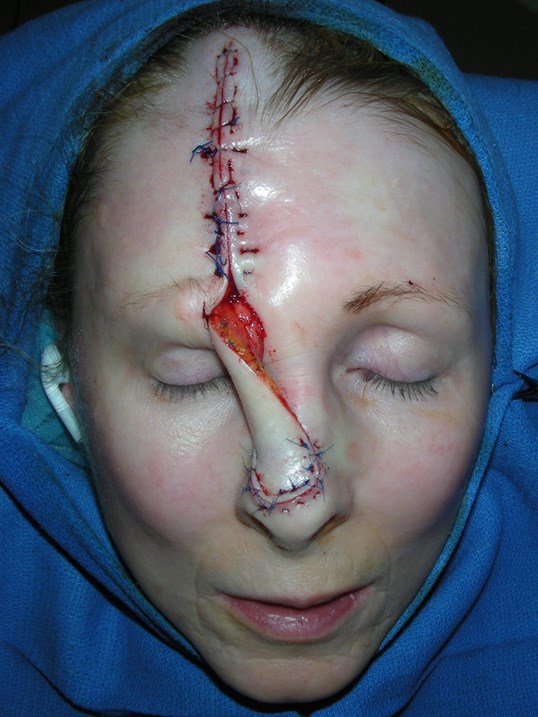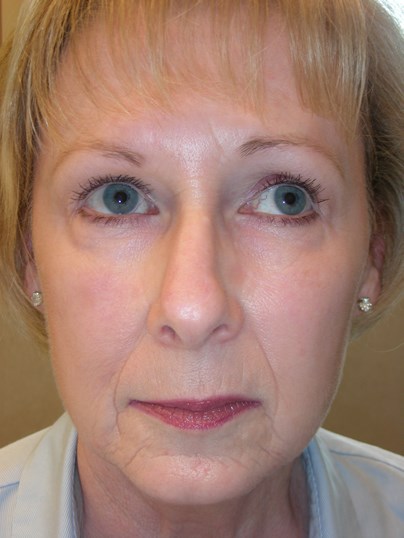 This patient had Mohs surgery on her right tip of nose for a basal cell carcinoma. Reconstruction was performed by use of a forehead flap due to the location and size of the Mohs defect. More
More photos from surgery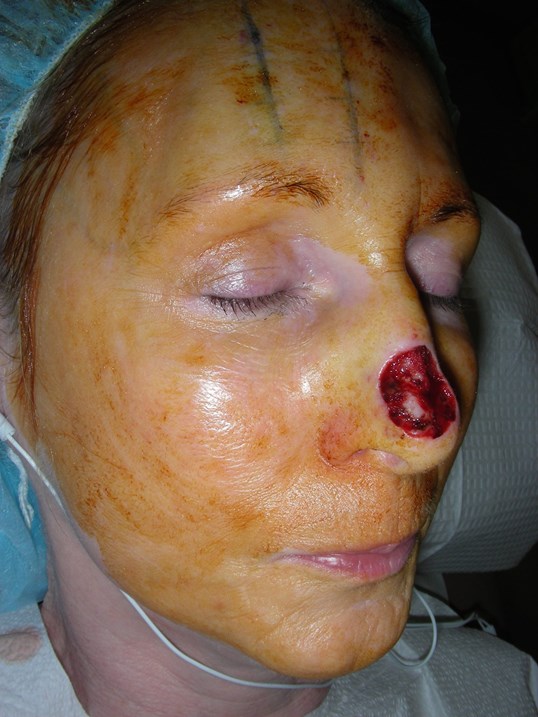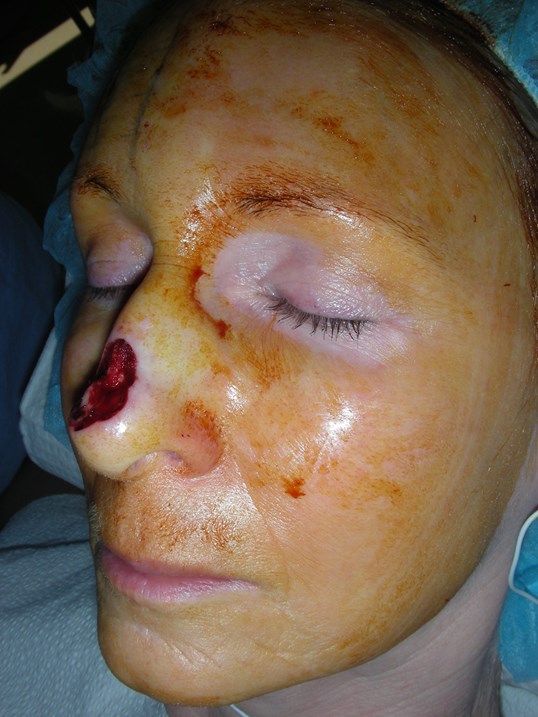 The skin cancer involved 3 different "subunits" of the nose: #1 nasal tip ~50% #2 nasal dorsum ~30% #3 right nasal sidewall More
Multistage procedures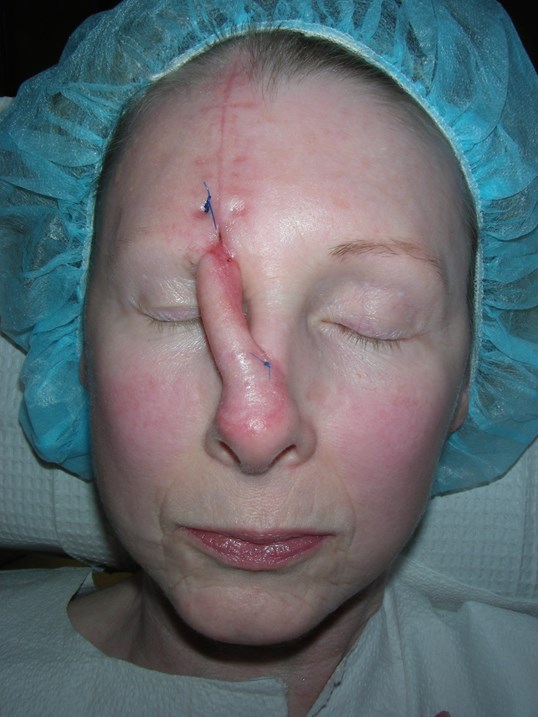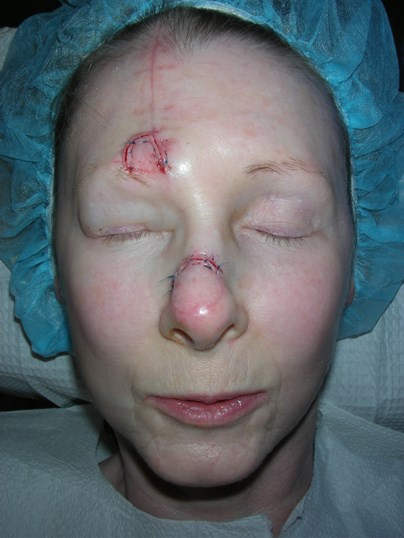 A forehead flap is a "staged" procedure meaning that it involves the planning of more than one operation/procedure. We typically plan 2 stages for a forehead flap, although we will occasionally perform a small 3rd procedure if necessary. For much larger holes involving loss of cartilage and in smokers an additional "delay" or "prefabrication" procedure is performed 1st. But, in most cases the first procedure is the transfer of the skin down onto the nose = the forehead flap. Below is the typical planning of stages: Stage 1: Forehead flap Stage 2: Division and Inset "D&I" Stage 3: Touchups (dermabrasion, laser treatment, thinning, scar revision if necessary) More
Before scar revision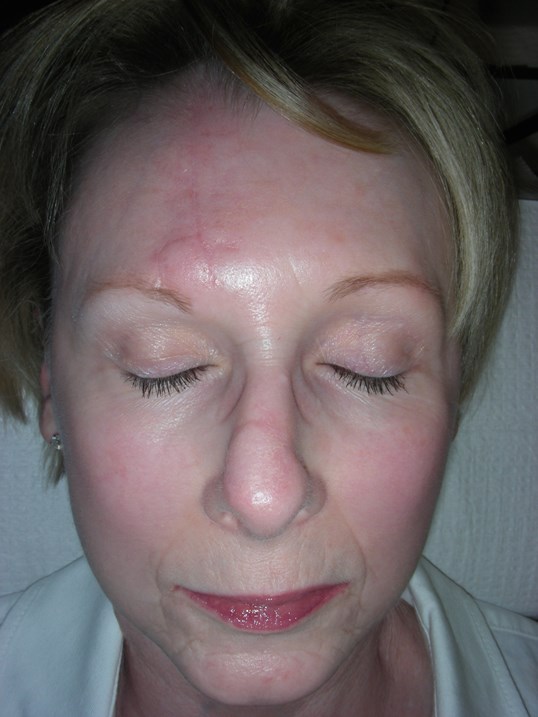 After 2 stages the patient has a good, but not great result...yet. All of the building blocks are in place for a great result. A third procedure will allow thinning of thickened areas and smoothing of her scars with dermabrasion. More
There are many different options for reconstruction of the nose. Plastic Surgery is a unique specialty becuase there are a multitude of ways different problems might be addressed, whether cosmetic or cancer related. Training as a plastic surgeon is heavily focused on:
#1 Comprehensive Analysis - whether cancer or cosmetic
#2 Preoperative Planning - selection of optimal procedures
#3 Surgical Precision - exercising technical excellence
Plastic surgeons have many reconstructive options at their disposal, but should strive to perform the simplest and saftest procedure that will give the best results. Unfortunately, in this patient a simple procedure, such as simply pulling the hole together, would yield a terrible result. With such a large hole, it is necessary to bring in extra skin from another area. The forehead flap remains the gold standard for repair of large nasal defects becase of the reliable healing and excellent skin match. The long-term results are usually excellent when performed and revised appropriately. Unfortunately, the forehead flap is a difficult process for patients to undergo because they require significant aftercare by the patient during the healing process. Also, the temporary results are unsightly becuase a bridge of skin connects the forehead to the nose and remains that way for 3 to 6 weeks. Additionally, the forehead flap requires at least two or three procedures to achieve the final result. For these reasons, many other options are considered such as "skin grafts" and other local "skin flaps" such as bilobe flaps, nasolabial flaps, and dorsal nasal flaps. Skin grafts are able to cover large areas, but often provide a poor skin match when they are a different color, texture and thickness. Skin grafts also heal slower, are less reliable, and are problematic for holes over exposed nose cartilage. Despite these drawbacks, there are times when skin grafts are the best choice. Local "skin flaps" provide a much better skin match, but are limited by the size of the defect. The work extremely well for appropriately sized holes, but an undersized flap attempting to fill an oversized defect can cause significant distortion of the shape of the nose. In this case, the forehead flap provided ample skin, an excellent skin match, and reliable healing which made it the optimal choice for repair.
To read and learn more about the forehead flap procedure, go to the following:
Correa, B. J., Weathers, W. M., Wolfswinkel, E. M., & Thornton, J. F. (2013). The Forehead Flap: The Gold Standard of Nasal Soft Tissue Reconstruction. Seminars in Plastic Surgery, 27(2), 96–103. http://doi.org/10.1055/s-0033-1351231
https://www.ncbi.nlm.nih.gov/pmc/articles/PMC3743909/
Location