EXPERIENCE HIGH-QUALITY, COMPREHENSIVE SKIN CARE.
Skin health is a lifelong journey.
Our care begins with a thorough consultation. We will work together to individualize your skin care, candidly offering our advice while empathizing with your choices. Our services are designed to provide optimum results and impeccable aesthetic outcomes.
The Skin Cancer Consultants medical team in Dallas, TX is prestigiously trained with an unparalleled experience. Our goal is to guide you through your skin care journey while advocating for you and accompanying you each step of the way.
Learn more
"Our niche is aging skin, and our passion is healthy skin. Whether you have skin cancer or simple sun damage, we're on a mission to provide you the best care, education, and first-class treatment."
- Dr. Thornwell Parker
Trusted Consultants
Our dedicated team guides you through every aspect of your skin cancer journey. Through prevention, intervention, and restoration, you'll receive comprehensive education, state-of-the-art treatment, and best-in-class cosmetic reconstruction.
BOARD-CERTIFIED MOHS SURGEON | PLASTIC SURGEON in Dallas, TX
Thornwell H. Parker, M.D.
Dr. Parker is one of seven doctors in the world dual trained as a board-certified plastic surgeon and fellowship trained in Mohs surgery/procedural dermatology. Dr. Parker is board-certified in Mohs surgery as well. As a plastic surgeon, Dr. Parker has extensive training and experience in cosmetic and reconstructive plastic surgery. His procedural dermatology/Mohs surgical training encompasses treatment of skin aging, precancerous damage, and skin cancers.
As an ACMS graduate and board-certified plastic surgeon, Dr. Parker gained an uncommon level of exposure including everything from challenging tumor locations to rare tumor pathology and complex wound reconstruction while practicing in Dallas, TX. You can rest assured that he has the training and experience to achieve the best outcome from your skin cancer treatment.
Meet Dr. Parker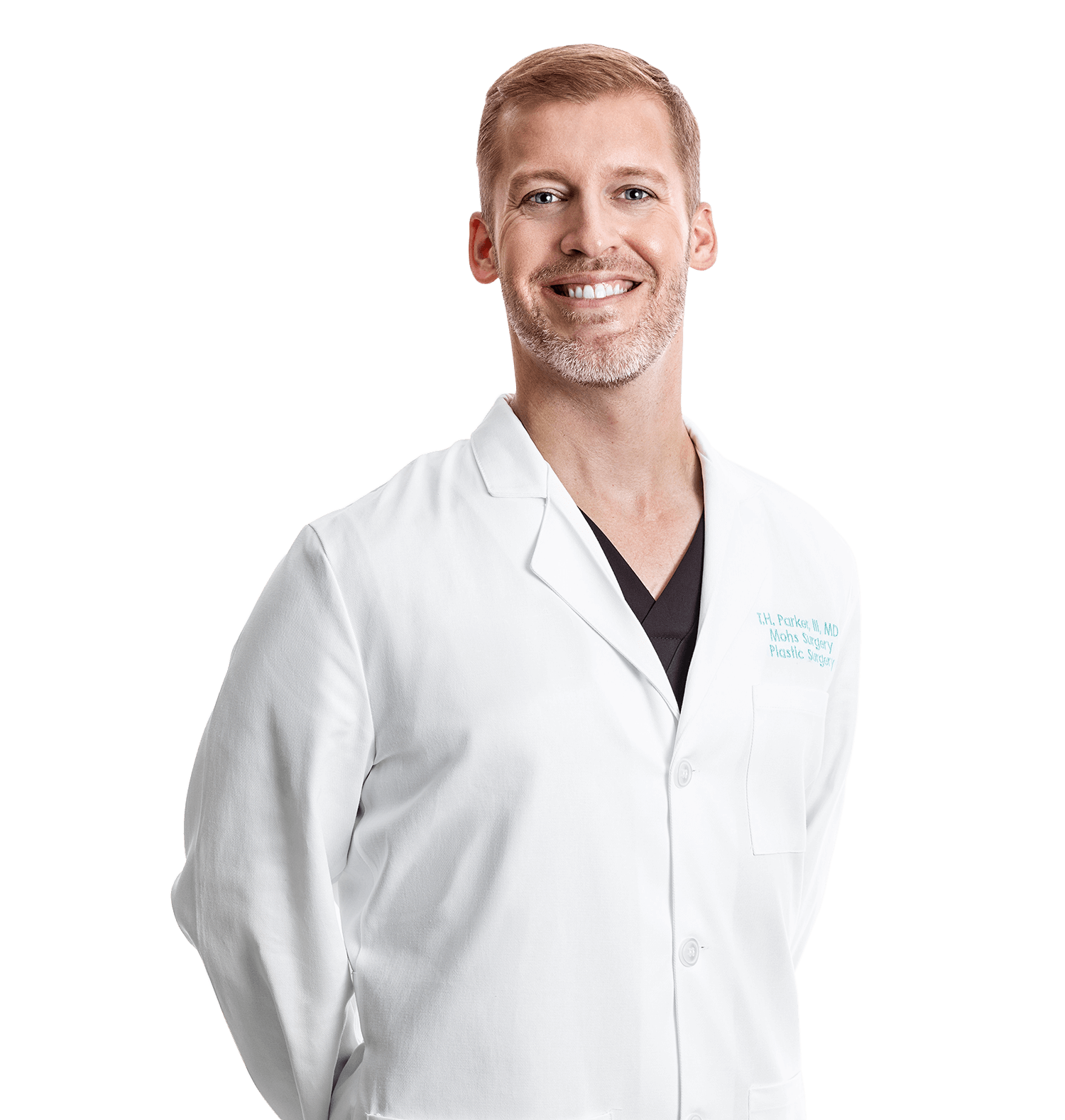 What is Mohs Surgery?
Developed by physician Frederic Mohs, Mohs micrographic surgery is a precise technique for skin cancer removal. It removes cancers in layers using a special method of mapping and microscopic examination of the tumor and underlying roots. The state-of-the-art procedure has become the treatment of choice for many types of skin cancer due to the highest cure rates for skin cancer treatment, and the best cosmetic and functional results.

Outpatient Surgery
Surgeries are performed on-site at our Dallas facility under the comforts of local anesthesia, or occasionally twilight sedation.

Precise Removal
Your fellowship-trained Mohs surgeon will carefully remove the visible tumor with a conservative, thin layer of surrounding tissue.

Micro-Examination
Your surgeon will examine the tissue edges under a microscope. If cancer remains, that area is marked on a map as a "positive" (bad) margin.

Minimally Invasive
The map guides selective removal of residual cancer while sparing healthy skin. The procedure stops when there is no longer evidence of cancer.

Speedy Recovery
We'll discuss reconstructive options as needed. The recovery process varies — you'll receive detailed postoperation care instructions.

Patient Comfort
Our compassionate staff and advanced facility in Dallas provides patients with a safe, calm atmosphere in which to receive their treatments.
Reviews
Great experience. Dr Parker and staff made me feel at ease when getting four skin cancers removed off my face. Scars barely visible. So thankful my Dermatologist recommended Dr. Parker. Highly recommend.
Excellent care, treatment and recovery. Dr Parker is friendly and professional. As is his staff. Others spoke highly of him too. After surgery, I had skin grafts to my nose and they were hardly noticible and not painful. He is a geniuses at fixing things. Be patient with him as he has so many needing his help.
Dr Parker and his staff are amazing. Not only did he answer every question and concern I had, he listened and is was very down-to-earth. He is also helping me with locations where the cancer removal has disfigured my face. Skin cancer can be a little scary, but Dr Parker makes you feel very supported. The clinic is super clean, the staff is super nice and I would recommend him HIGHLY. A++
All Reviews